DVD Info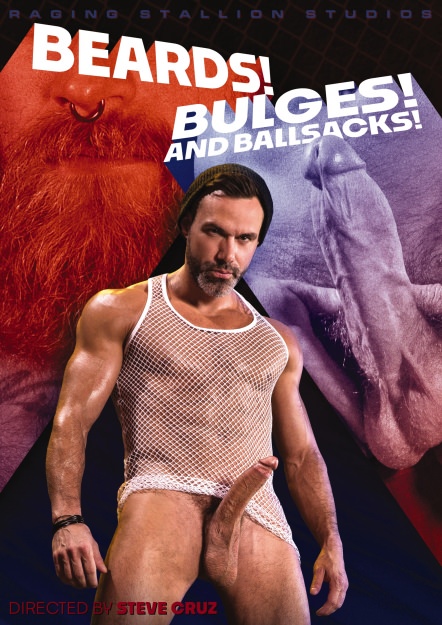 Beards, Bulges & Ballsacks!
Updated 2017-06-16

|

02:09:26

|

21664
Categories Anal, Big Dick, Bodybuilder, Boots, butts, cum shots, Hairy, Jocks / Athletic, jockstraps, latinos
DVD Description
Enter a fetishistic fantasy realm where the men are natural, the sex is instinctual, and the hairy cocks are throbbing hard. All the best assets of real men are shown off with their 'Beards, Bulges & Ballsacks' as they get fucked and sucked in intense exchanges. Director Steve Cruz brings together nine muscled up, hunky studs and highlights their bushy beards, big bulges, and swinging, meaty ballsacks. Leather daddy, Michael Roman, takes on Fernando Del Rio and Daymin Voss. The threesome eats ass, sucks cock, and fucks hard until all three paint the floor white. Aarin Asker walks up to Hoytt Walker as he's pissing in a trough. Aarin worships Hoytt's big balls and sucks his massive pole before Aarin bends over to take it up the ass. Rikk York is in nothing but a leather vest and big black boots when muscle daddy, Manuel Skye, catches his eye. Manuel pounds Rikk's ass and blasts his massive load in both of their beards. Tex Davidson and Michael Roman belly up to the double glory hole when Ryan Finch and Hoytt Walker join the fun to do their duty and service the hung muscle studs. Ryan and Hoytt suck cock like pros before everyone gangs up and takes turns on Michael's throbbing pole. Michael grabs Hoytt for himself and takes him to a bench where Hoytt finishes off the work and each stud gets a massive, wet facial to taste and cherish. Tex and Ryan don't like to waste time when it comes to getting laid. Tex bends Ryan over and has a nice long rim session as he savors the flavor of Ryan's ass, then stretches Ryan's hole until both throbbing poles drain their balls all over Ryan's dark, thick pubes and big, fuzzy balls. 'Beards, Bulges & Ballsacks!' is a high energy fuck fest highlighting the sexiest of all manly attributes. The beards are bushier, the bulges are bulgier, and the ballsacks are bouncing hard and busting free!
Scenes from
Beards, Bulges & Ballsacks!
Photos from
Beards, Bulges & Ballsacks!