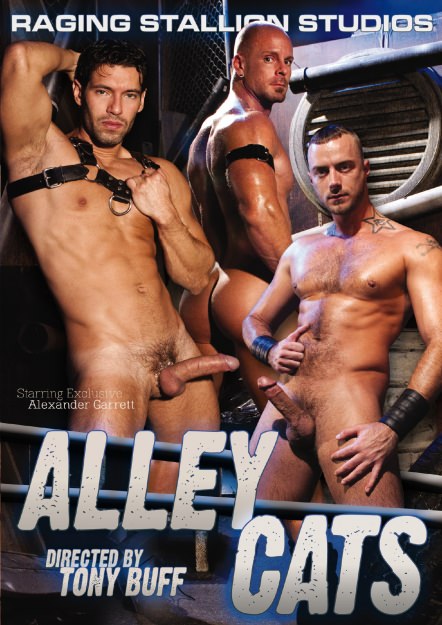 Scene Description:
Beefy, harnessed Latino,
Angelo Marconi
approaches leathered-up,hairy
Tom Wolfe
in a dark alley. After a brief exchange, Tom forcesAngelo onto his knees and Angelo gets through the leather jock to thethick cock he desires. Forcing Angelo's head down and jamming hiscock down his throat, Tom repeatedly gags Angelo with his thick, hardcock. Saliva flies as Angelo jerks himself off with Tom's spit andcovers Tom's cock with his. Tom, the cut, white Midwesterner, wantsto play with Angelo's foreskin. He gets on his knees to suck someuncut Latin meat and nibble on the rolls of skin covering Angelo'scock head. Angelo's ass is ready to get serviced. Tom flips over theeager bottom and starts to eat Angelo's tight hole. Tom fingers,teases and toys until he can't wait any longer to slam his thick cockdeep into the hot, impatient ass. Soon after Tom starts fucking hard,Angelo is asking for it harder, deeper and faster, which Tom answerswith unyielding thrusts. Tom puts Angelo on his back and continuesto pound away while Angelo jerks his cock.
Kieron Ryan
appearswatching the hot action from a distance. Tom sees him pull out hishard cock, and decides to give Kieron a show by thrusting his cockeven harder until Angelo lets out a huge load onto his stomach. Tomstraddles Angelo, and beats his meat until he shoots a missile of cumover Angelo's shoulder.
You Might Also Like These Scenes...