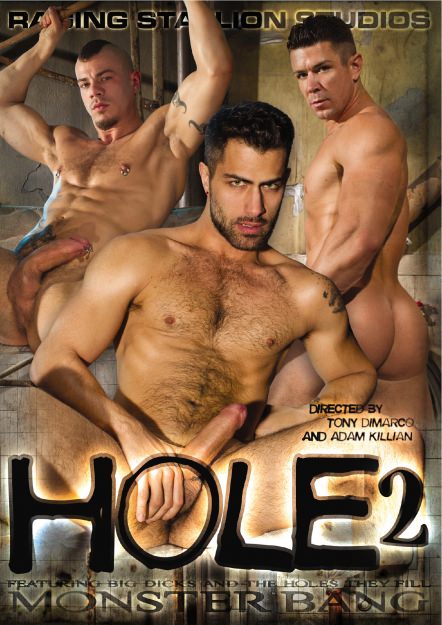 Scene Description:
Alone in a dingy cell, Joe Parker has only a closed-circuit TV for company. He sees men fucking. Joe has no control over the screen. A bare bulb swinging overhead casts shadows. A thin line of hair leads to the cock Joe is massaging through his filthy briefs. Dark hairs curl over the neckline of his t-shirt. Joe's isolation is relieved when
Adam Ramzi
is thrust into his cell. Joe reacts like a lion at feeding time in the zoo, flinging himself onto the offering, biting his lips, tearing his clothes to get at his cock. Adam's bewilderment gives way to the surging pleasure unleashed by Joe's mouth. He grabs Joe's shoulders and flings him onto the cot, returning the blow job with equal fervor. If Joe's cock were any harder, it would shatter. Adam squeezes Joe's balls and drives his tongue into the cleft between his buns. They lie belly-to-belly, the sweat on their hairy chests mingling. Adam reaches for Joe's cock, aims it at his hole and impales himself on it in one single thrust. They knock foreheads, Joe thrusting up and Adam pushing back. Doggy position and missionary position follow, never missing a beat. Adam's supercharged balls propel a thick stream of jism across his torso. Joe's orgasm is no less intense, scattering spooge in a wide arc.
You Might Also Like These Scenes...