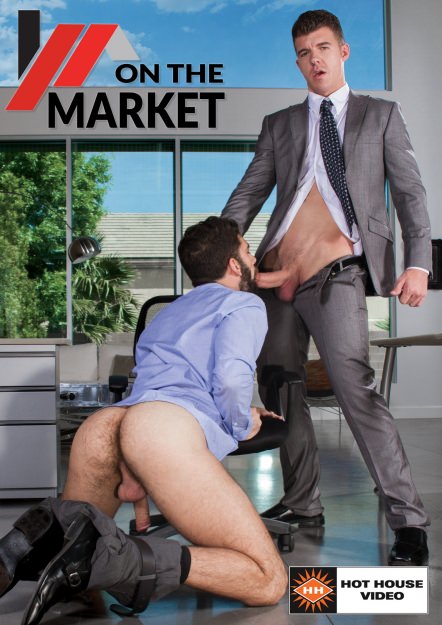 Scene Description:
It takes balls to negotiate a good deal, and confident, muscled hunk
Wesley Woods
has some of the biggest balls around. As Wesley counsels his client on the phone,
Johnny V
enters the office with a special delivery, but the only package that Wesley cares about is the one between his legs. Guiding Johnny's hand to his hard cock, Wesley unleashes his thick meat to get sucked. Johnny works Wesley's cock from tip to base, also sucking on his huge nuts. Wesley pushes down on Johnny's neck, urging the stud to swallow even deeper. Stripping off his shirt and shorts, Johnny reveals his perfect bodybuilder physique: bulging pecs, thick arms, washboard abs, and a firm ass. Wesley slobbers on Johnny's cock, slicking up the shaft all the way down to Johnny's ginger bush. Putting a leg up on the desk, Johnny presents himself for rimming, and Wesley dives in. Saliva rolls down Johnny's crack as Wesley licks and fingers the tight pink center. Wesley slaps his cock against Johnny's ass before thrusting inside, and Johnny submits control. With his big nuts slapping against Johnny's ass, Wesley cockily dominates the ripped muscle stud. Johnny flips on his back and jerks his cock as Wesley fucks him, spewing his semen all over his rippling stomach. With his balls drained, Johnny sinks to his knees and opens his mouth to catch Wesley's massive load: thick ropes of pearly white cum that splatter across Johnny's lips and dribble off his chin. Now that Wesley's package has been serviced, he's ready for his next conquest!
You Might Also Like These Scenes...