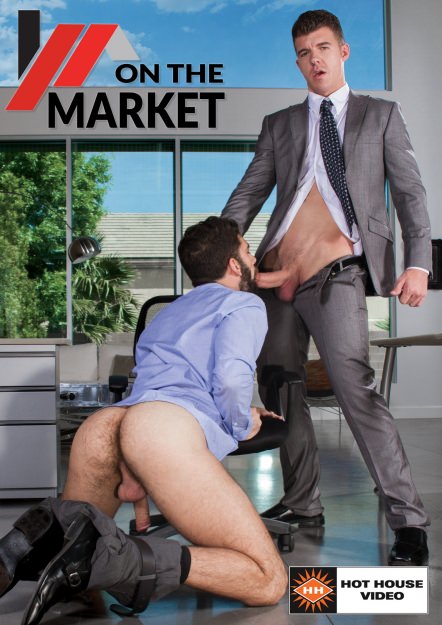 Scene Description:
Junior agent
Dustin Holloway
gets called up the stairs to his boss' office.
Austin Wolf
is an intimidatingly handsome power broker, and Dustin is a bit nervous about making a good impression. Fortunately, Austin is happy to give Dustin a way to impress him. As Dustin sits in the office chair, Austin undoes his belt and pulls out his monster cock. While Dustin wraps his lips around Austin's tool, Austin unbuttons his dress shirt, revealing massive arms, bulging pecs, and plenty of tattoos. Dustin moves up on to the desk so that Austin can return the oral favor, sucking Dustin's cock and tugging on his low-hanging balls. Throwing his leg over Austin's muscled shoulder, Dustin presents his ass for a rim job. After licking Dustin's hole, Austin probes the tight entry with a finger and massages Dustin's prostate. Dustin turns over and assumes the doggy style position. Teasing Dustin's ass with the tip of his cock, Austin finally thrusts inside with powerful strokes. Dustin's firm ass wraps around Austin's girthy cock as he slides in and out. Leaning back on a chair, Austin points his cock at the ceiling, and Dustin climbs on for a ride. As Austin thrusts up from below, Dustin uses his powerful legs to fuck himself on Austin's hard, pumping meat. Jumping back up on the desk, Dustin takes Austin's cock missionary style and strokes himself until he cums on his treasure trail. Pulling out, Austin jerks out his load on Dustin's stomach and leans in for a closing kiss.
You Might Also Like These Scenes...