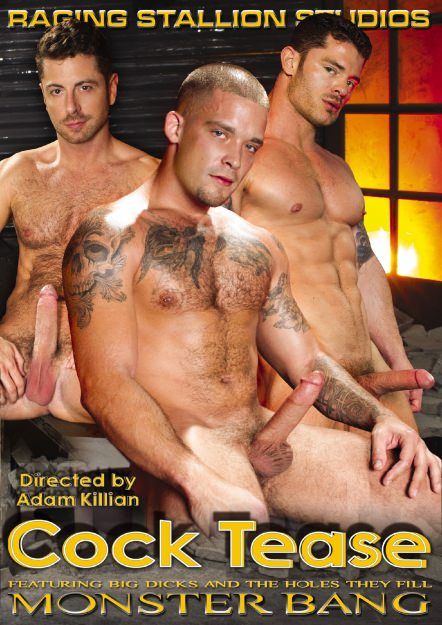 Scene Description:
Ripped, inked musclestud
Adam Killian
asks if
Caleb Colton
is interested in "switching it up." Adam grips the enormous bulge in his camo shorts then shreds his wifebeater, makes an impromptu gag with it, and tongue-fucks Caleb's mouth through the gag. The bulge morphs into a maxed-out hardon aimed at Caleb's mouth. The hairs on Adam's chest stand on end as Caleb revels in the fat cock he has to suck. They kiss wetly, Caleb rims Adam's armpits, then Adam commands him to crawl onto a bench. Adam's rimming leaves both men quivering as if hit by an earthquake. Adam cock-surfs Caleb's crack so his ass will know what massive meat is about to sunder his innards, then he delivers the thrust, all the way to the hilt. A flickering fire in the window casts its glow on bodies basted with spit and sweat. The fucking is wild and untamed. Adam hooks his calf around one of Caleb's thighs, and pounds harder. Tongue-fucking Caleb's ear, Adam flattens him to the ground. When Caleb needs relief from the intensity, Adam loops himself through a huge dangling hoop, suspended like a gymnast whose acrobatics are driven by a tongue in his ass. Then Adam resumes the fuck, pile-driving to dual gushing, noisy orgasms.
You Might Also Like These Scenes...